Let's start with a clear message – blogs are here to stay.
The power of the written word is simply undeniable. The internet, for all practical reasons, runs on this power.
So, creating a blog that finds visitors, engages them and converts them into leads or customers is still the easiest, most used and most effective way of content marketing. In fact, for most businesses, writing a blog and content marketing are one and the same.
But are blogs the be-all and end-all of content marketing?
Definitely not!
Good content comes in diverse avatars. In this post, we will discuss some effective, highly-engaging and powerful alternatives to blogging that can have a positive impact on your content marketing campaigns.
Videos
If the written word helps you reach out to the visitors' mind and brain, the video content lets you tug at their heartstrings.
Why Videos Matter
Let's take a look at some interesting stats to gain an insight into how videos have brought about a revolution of their own.
Data Source: HubSpot, Biteable, BrandWatch
People absolutely love videos. An average internet user is likely to spend up to 90 minutes watching videos every day. For some extra-passionate individuals, this number becomes twice as large, at 3 hours a day. In short, people spend 12 to 25% of their waking day watching videos!
Cisco estimates that by 2021, the downloading, streaming and uploading of videos will consume 82% of the entire global internet bandwidth.
As a business or a marketer, these numbers should be looked at as an opportunity. And what a splendid opportunity indeed – let's see how.
Videos and Content Marketing
Data Sources: HubSpot, OptinMonster
If you are drawing up content marketing strategies, you just cannot afford to ignore videos. Coupled with our thoughtfully curated content marketing services, you can maximise the effectiveness of video marketing.
YouTube – the largest video depository in the world – is also one of the largest search engines. As many as 70% of YouTube users turn to YouTube to find answers – the whats, the whys and the how-tos of the world.
54% of active consumers don't just like to see video content – they want and demand it.
62% of B2B content marketers report that videos yield better engagement.
Video newsletters are a testament to this fact – they boost the open rates by 19% and click-through rates by 65%.
81% of consumers are compelled to buy things if they see a video telling them why they should.
The message isn't lost on shrewd content marketers and businesses. Videos have become a go-to content marketing solution. The answers to your questions – how to create content for a blog or how to market a blog – may well lie in using videos as a secondary content form.
When & How You Can Use Videos for Content Marketing
Videos can serve a variety of purposes when it comes to content marketing. The idea behind creating video content is the same as behind creating content for a blog – the end-result should be worth the user's time.
Videos work the best to showcase physical products. Don't think of this as advertising – you want to well-and-truly explain the product features and its benefits. Videos can also help your customers understand the product in a more hands-on way.
Answering How-To Questions
A 'how to' query is driven by an intent. If you are trying to look up 'how to tie a Windsor knot', you want the answer to it right away. This is where video content holds an edge over blogs and articles. This also holds true for troubleshooting questions.
One word – Vlogs.
Vlogs can be an effective way of generating buzz, improving the brand awareness and, most importantly, creating a user base. If your vlogs are engaging and interesting, there's a great chance of turning this user base into subscribers – fans, even – and ultimately, paying customers.
Live Streaming – An Underutilised Idea
Facebook, Instagram and Snapchat – all leading social media platforms let you stream live to your friends, fans, subscribers and customers. This is an interesting idea because you create content 'on the fly'. It's valuable because it lets you interact in real time with people who matter to your business.
Video content marketing is a great way of delivering events to your prospective customers, especially if you run a B2B business. Think networking events, seminars, webinars, interviews – the opportunities are definitely there to make your mark.
Website/Blog Marketing Using Videos: An Example
This YouTube series, sponsored by ONETRIP, is a great example of how engaging videos can improve brand awareness. ONETRIP offers fully customised tours of lesser-known Asian destinations, and this video drives that message home in a beautiful, non-intrusive and entertaining way.
Images
Images are everywhere. So far-reaching is our fascination for images that new search engines, social media and sharing sites were created just to help us get our daily fix of images. This very fascination is what makes images a wonderful content marketing tool.
Why Images Matter
If you want to understand the impact of images, just open your favourite social media apps.
Users upload close to 150,000 images on Facebook each minute.
Instagram sees a whopping sum of 95 million new posts every day.
Pinterest is already home to 75 billion image-heavy 'ideas'.
Snapchat users send more than 3 billion snaps every day.
Twitter isn't an exception either – over 40 million tweets containing images are now sent out every day.
Images and Content Marketing
With billions of images being uploaded every day, is there any scope to stand out? In short, do images make for a powerful content marketing tool?
The numbers sure say so!
Data Sources: HubSpot, Larry Kim at Medium.com
Nearly one in three businesses uses images as their primary content marketing vehicle, thanks largely to social media.
Visual content improves the likeliness of user engagement by 65%.
Facebook posts containing images see 2.3x more engagement.
Tweets with images receive 150% more retweets and 34% more likes.
One in two businesses – B2C as well as B2B – think visual content compliments their other content marketing strategies.
When and How You Can Use Images for Content Marketing
Images are more robust than any other form of content. They can be used as standalone features or as additives to other content marketing ideas.
The first and the obvious use of images for content marketing is enriching your social media presence. We have talked at length about how social media and content marketing go hand in hand in this blog post.
This is a rather underhand approach, but it does work well. If the images your produce are high-quality, and they are well taken care of using good SEO practices such as alt tags, image search can drive considerable traffic to your website.
Product Presentation and Catalogues
If you are selling physical products, this is something you just can't do without. People want to see what you're talking about before they hear a single word from you. So, creative, imaginative product photography and catalogues can be an effective way of generating interest in a nearly passive way.
Visual Content Marketing Example
This Facebook post from Abercrombie & Fitch is a study in minimalist visual content marketing. It shows the product in a wonderfully positive light while linking the visitors to the landing page with no obvious advertising angles to worry about.
Infographics
Infographics are on their way up, and for a reason.
All of us are regularly bombarded with heaps of information. Many of us want to digest this information, but we just don't have the time for it. Much the reason why, people skim through blogs on a regular basis. While images can improve the engagement by huge margins, there's still only so much they can convey.
Enter infographics – an ingenious way of presenting complex data and information in a bite-sized manner.
Why Infographics Matter
Visuals replete with information are much more understandable.
User statistics, buyers' journey maps and website heat maps reveal that infographics don't just catch eyeballs – they retain them longer.
It takes just one hundredth of a second to process a visual piece of information.
Graphs, charts and other data tools make the user experience incalculably better.
Infographics and Content Marketing
Infographics are a perfect blend of textual and visual content marketing tools. It, then, goes without saying that they have already become a prominent feature of many content marketing campaigns. We have tailored our content marketing services to optimise the impact from all content forms, including infographics. You can also contact us to request a quick content marketing proposal.
The 2014-2018 period has seen the use of infographics rise in B2B content marketing campaigns by 65% – the highest among all content assets.
Infographics are known to increase organic traffic to a page by 12%.
41% of original graphics on business websites are infographics.
Infographics can improve social sharing and engagement by 54%.
People are more likely to believe a well-made infographic than a plain block of text containing the same information.
Data Sources: Lucid Press, JeffBullas.com
When and How You Can Use Infographics
With such an exciting content marketing value, it's only natural that you want to create as many infographics as you want. But take a minute to understand when infographics work the best.
This is what infographics were built for. If you've got a lot of data, infographics are your allies.
Infographics have an edge over images and videos – they blend in seamlessly with your branding ideas. In other words, infographics are an easy way of achieving and strengthening the brand identity, all the while encouraging user engagement.
We have already seen that infographics are persuasive. There are two ways to use this fact in your favour:
Infographics can be used to convince the buyer of the 'pain-point'. For example, a business that produces ergonomic chairs can prepare an infographic explaining how sedentary work life leads to health problems. This can be a good way to generate qualified leads.
Infographics can also be used to drive home the 'quality point'. For example, the said ergonomic chair business can compare their chairs with regular chairs using an engaging infographic to highlight the benefits.
Content Marketing with Infographics: An Example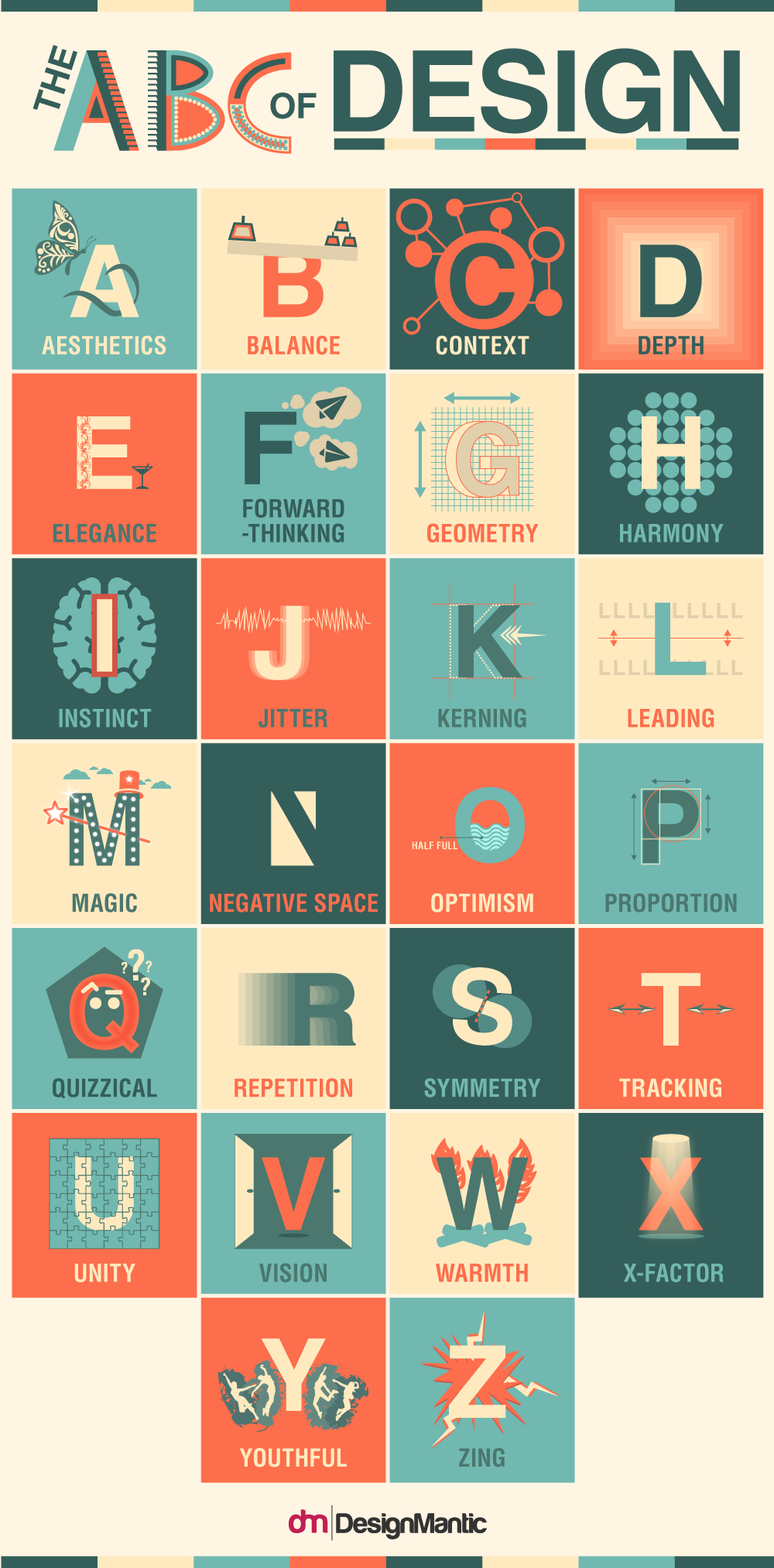 Courtesy of: Designmantic.com
DesignMantic – a web-graphics solution provider – came up with this gorgeous infographic that explains the nuances of design making. Subtle, valuable and engaging – this is a great example of how infographics let you demonstrate your expertise.
Podcasts
There's something special about being spoken to.
Take audiobooks, for example. Amazon has added a whole new dimension to their Kindle-based business of e-books with Audible, an audiobook subscription service that has exploded in the last few years.
Podcasts use the same principle to connect with the listener on an auditory level.
Why Podcasts Matter
Podcasts may appear to be old-school, but the numbers suggest that they are in.
People aged 25-54 are the largest patrons for podcasts. This also happens to be the most prominent consumer demographic.
In the US alone, 12 million people are thought to discover and start using podcasts each year.
Podcasts are consumed everywhere – home (49%), commute (23%) and other places (28%).
The introduction of smart speakers and other smart home have made it easier than ever for people to find and consume podcasts.
Podcasts and Content Marketing
Podcasts pack a lot of information in a fun and relaxing way. Does this make podcasts a good content marketing tool?
Absolutely!
Data Sources: Articulate, Entrepreneur Inc
Podcasts are easy to create and easier to consume.
It's easier to encourage loyalty by creating regular, valuable podcasts.
It's no secret that the information we hear is easier to remember and stays with us longer.
Podcasts are very unlikely to be perceived as adverts or attempts to 'sell' stuff.
When and How You Can Use Podcasts
Podcasts, despite being here forever, are still in their infancy as far content marketing is concerned. This isn't necessarily a bad thing – it, in fact, represents a huge marketing opportunity.
Establishing a Direct Connect
Podcasts are inherently more personal than any other form of content. It's, in essence, a form of a one-on-one communication. Therefore, you can use podcasts to establish a direct connect with users.
There are enough brands out there telling us what to do – we don't need more. (The Stones said this in no uncertain terms way back in the 60's).
Podcasts can help you get over this problem.
For example, if you run a real estate business, a podcast full of interesting stories, anecdotes and real-life interviews is almost certainly going to have people interested in hearing you out.
There are two ways you can amplify and deliver podcasts – on a major platform like iTunes/Spotify or on your own website. The best way forward, in the beginning phase at least, is to make the most of a ready-made platform like iTunes. Remember – you will need SEO rich tags, labels and descriptions to get found.
Podcasts are best used in conjunction with conventional content marketing ideas. If you need help in amplifying podcast content with accompanying blogs or articles, you can request a proposal from our content marketing team.
Content Marketing with Podcasts: An Example
Money in the Bank is a popular podcast series. Run by the eponymous personal finance solutions provider, it regularly attracts new customers by giving them precious information in the form of free professional advice.
Content Marketing without Blogs – Other Alternatives
Interactive Content
Interactive content is gaining in popularity.
While such content often yields good results, it should be noted here that it takes a great deal of resources to create such content regularly. So, the amplification becomes an issue that somewhat diminishes the effectiveness.
Examples: Quizzes, Polls, Surveys, Games, Animation Features etc.
Curation
Curating content is a good way to solve the content creation bottleneck. A curated content piece – it could be a blog post, a video or any other content form discussed here – compiles the best third-party resources and presents them to the user in a systematic way.
If you find it difficult to ideate, create and deliver content on a regular basis, you need to ramp up your content marketing efforts. Click here to read more about how our bespoke content marketing services can help you in this regard.
Blogging Alternatives – How to Make Them All Work?
As a business trying to reach new customers or as a content marketer trying to achieve the targets for your clients, it's easy to get disoriented when you're bombarded – left, right and centre – with conflicting advice from 'experts'.
One such advice is particularly confusing – blogging is on its way out. This idea couldn't be further from the truth.
Just because many businesses find it difficult to market a blog doesn't mean blogging is not for you. Blogging is still the most effective, far-reaching and powerful content marketing tool. The best way to use the alternative content marketing tools discussed here is to combine them with regular textual content – blogs, articles, guides, e-books, whitepapers and so on.
To learn more about how we – at Connect London – help businesses and marketers achieve this, click here. To get in touch with us or to request a proposal, please visit this page.